Do you want to make your website faster than your competitor? Do you want to increase your website google ranking by increasing website speed?
Increase in website speed increases, overall user experience, increase website traffic, and boost your search engine optimization (SEO). In this article, I gonna help you to increase your website speed as well as Google ranking.
In this article, I gonna tell you about 7 Crazy awesome website hacks to boost overall website performance.
Why speed is important for a Website?
Most of the study shows & proves that If your website speed is faster & loads within a second, then your website got a better user experience and it directly increased your sales.
If your website speeds down 1 second in delay, then your 7% of website user lose your website. 53% of your website users back your site if your site load delay in 3 seconds.
The disadvantage of a slow website is First Google rank down your website because google focus on the best user experience and the Second thing is you lose your potential customers because no one wants to wait. right!
So you are thinking that How do you know about your website speed & performance report?
How to Check WordPress Website Speed?
So the best & easiest way to check your website speed performance is through Monsterinsights. It shows in-depth information about your website in the WordPress dashboard.
So do not have to go anywhere to see your website information you can easily see all info in your WordPress dashboard.
I recommend you to use Monsterinsights for your website because It is an advanced Google Analytics WordPress plugin that has features like eCommerce tracking, file downloads, form conversions, and more in just a few clicks.
After installing Monsterinsights in WordPress, You have to connect Monsterinsights Plugin to Google Analytics.
5 Crazy Easy Speed Hacks to Boost WordPress Site Vitals Score
Your website speed depends on a lot of factors but here I listed 7 important website speed hacks to boost your website vital score.
1. Selecting Best WordPress Hosting
Website hosting is the primary factor for the loading of your website because all website data like content, plugins, themes, etc. data are stored in your Webhosting and if your web hosting is not faster enough then you will lose your potential audience as well as google ranking.
So, you are thinking what is the best shared hosting for me? Bluehost offers one of the best Shared Webhosting globally on the internet, So I recommend you to use Bluehost web hosting for your website. Try Bluehost Now.
If you are starting out or new, then you can use Bluehost Webhosting for your website. But if your site gets a lot of traffic or big sites then you have to use managed web hosting for your website.
One of the best-managed web hosting providers is the liquid web, they provide managed web hosting services to +5,00,000 sites. They only focus on the best-performing hosting service, so you can use liquid web hosting for your big or huge traffic sites. Try Liquidweb Now.
2. Compression Your Website Images
If your website has a large image size then it directly impacts your WordPress website loading speed. So you have to optimize your website images.
How you can optimize your website for large-size images?
You can simply do this by many of the image compression tools online. You can search on google " online image compression tools" and compress images before uploading them on a website.
3. Improve response time by using Caching Plugin
Another easy hack to improve your website speed is using Cache Plugin for your WordPress Website.
How does Cache Plugin improve website speed?
Caching Plugin temporarily stores your website information on the visitor browser and when visitors open your website again then, your website loads faster.
Without caching plugin, when visitors visited your website it gets data directly from your database server that increases your website load time.
So in order to get good website speed performance, you have to install a WordPress cache plugin. I think you understand the logic behind the using cache plugin for your WordPress website.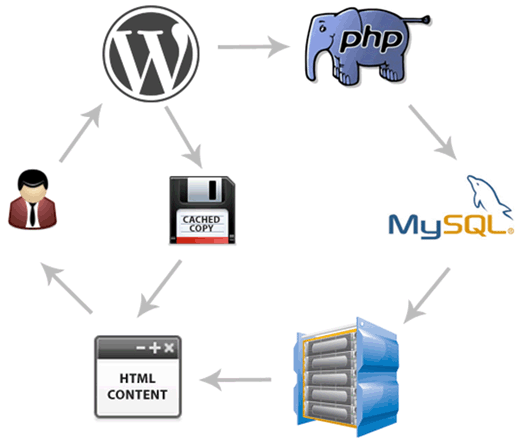 4. Boost Website Loading time with CDN
CDN means Content Delivery Network – It helps to load your website faster no matter from which location the visitor land on your website.
Is the location of your visitor impact your website speed?
Yes, the location of visitors matters a lot because your web hosting location is static and when your website visitors access your website from a location that is far from your web hosting location, then it increases your website response time and results in slow down your website.
How CDN Works?
When you connect your website with CDN, then CDN stores your website's data in their server. When the user wants to access your website then CDN works, CDN immediately shows your website static page to the user no matter from where they access your website.
CDN has database servers in almost all country and it performs very superbly. I think, now you can understand how CDN increases your website speed performance.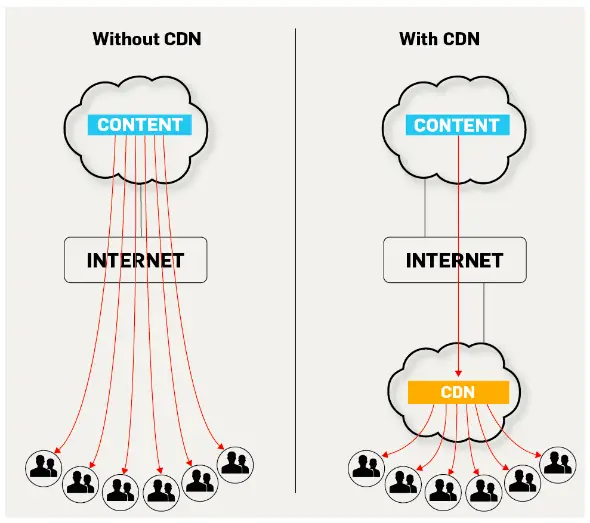 5. Keep Your WordPress Site Updated
Make sure your WordPress is up to date because it also improves your website speed. The latest version of WordPress, Plugins, theme improve your website speed because of updates in the latest features, fixes bugs, latest security.
If your plugins, themes are not updated, then it causes a slow loading time of your website.
To check your WordPress update go to Dashboard » Updates and here you will get notified about updates.
Final Conclusion
The Speed of a Website is most important and I told you about 5 crazy hacks to improve your website speed. But How do you know about your website performance?
Simple – Use can use the Monsterinsights WordPress plugin to get in-depth analytics of your website.
Thanks for reading this article, Have a nice day!
Best others articles for you