Are you want to boost your website conversion with Coupon Popups in WordPress Website 2022?
If you are looking for the best popups coupons builder and want to increase your sales conversion, then you come to the right place.
You know, how Coupon Popup increases click to your products and make great sales.
So it is very important to know how to create an awesome Coupon Popup in WordPress that drives a lot of traffic to your products.
You know that there are many tools available in the market for creating popups coupons. But today, I picked one of the best & easy methods to create Coupon Popup on your WordPress website that boosts your sales.
Why do most bloggers and companies use Coupon Popup?
[ratings]
Sometimes you are thinking that why most of the bloggers and companies use popups coupons when you are visiting their site?
Most of the bloggers and companies use popups Because popup coupons generate a huge amount of leads and they know that this method works that is why they use Coupon popups in their websites.
Today, I will show you the best effective methods for creating Coupon Popups for sales & conversion.
Optinmonster is the best tool for creating popups coupons for your WordPress website. You are thinking that why I am choosing Optinmonster for creating Coupon Popup?
Why Should We Use Optinmonster for Creating Coupon Popup?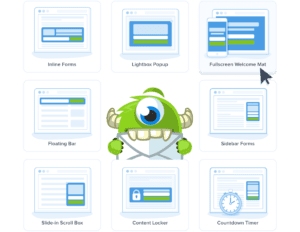 1+ Million Active Installations

Powerful drag & drop builder

Lightbox Popup

Floating Header and Footer Bar.

Content Lock

Inline Forms

Slide-in Scroll Box Forms

A/B Testing

Real-Time Behavior Automation.

Conversion Analytics

OnSite Follow-up Campaigns

Cookie Retargeting

Geo-Location Targeting & Page-Level Targeting.
Optinmonster has Advance targeting options that allow you to create specific popup coupons for every page on the site.
How to Create a Coupon Popup with OptinMonster?
To use this awesome popup coupons option on your website page, You need to purchase Optinmonster. 
To easy install & use Optinmonster, I listed the 5-Step process to creating popup campaign on your WordPress website.
Step  1 – Install & Activate Optinmonster in WordPress
After purchasing Optinmonster follow these steps –
Login in to your WordPress Dashboard
Click on the plugin section to add new
Then, Click on add new plugin
Search Optinmonster in WordPress search bar
At last, Install Optinmonster Plugin and then activate it.
you are all done with wordpress, Now you create campaigns in next step.
Step 2 – Create a Campaign
In step-2, You can easily create a campaign, You know that there are various steps to create popup campaigns for your page. For Quickly creation a campaign follow the following steps:-


First login in your Optinmonster Dashboard.

Click on Create Campaign & choose a Campaign Type such as popups, full screen, slide-in, floating bar and inline.

Click on popups < select your favourite templates, for creating Coupon popups type < search coupon on the template search bar.

After selecting Coupon template < to customize this coupon template according to your need. Optinmonster has fully customizable Drag and Drop features. You can easily manage your popup coupons campaigns.

After giving the campaign name & website URL < Click on Start building.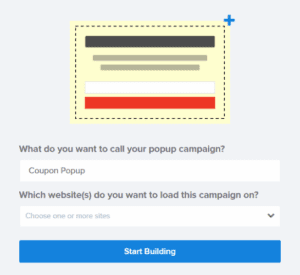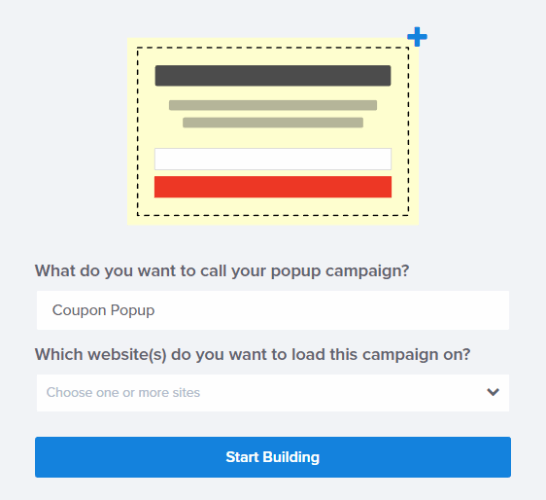 Step 3 – Customize Your Coupon Popup
After clicking on Start Building, Now you can see the Drag & Drop builder where you can easily Display whatever you want on popups.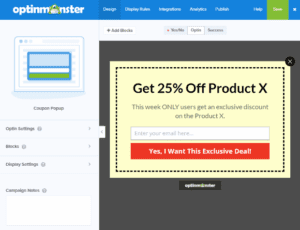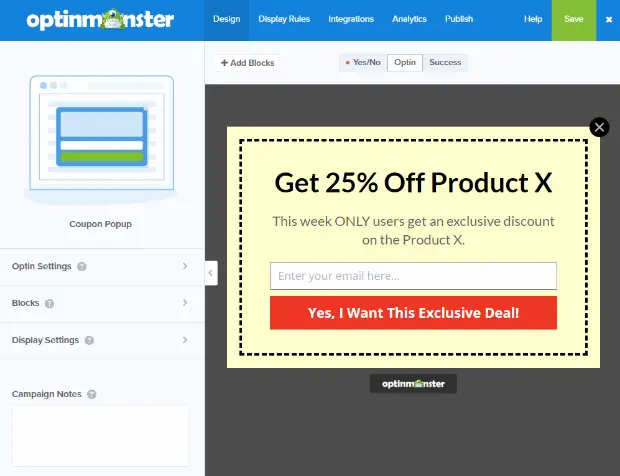 Change Coupon title and write Awesome title to your coupons popup that may be discount and free something.

You can manage colour style, font style, buttons and animations according to your need.

You can also add an image to your coupons, you can use free stocks photo for popup campaigns.

You can manage design by clicking on Optinmonster settings < designs and modify according to your need.

Don't forget to edit the Button because it is a call to action button that pushes the visitor to click on it.
Step 4 – Set Up Thankyou Pages
After designing popups, you can create thankyou popups for your coupons. When your visitors click on your Popup Coupon, it redirects visitors to a thank you page.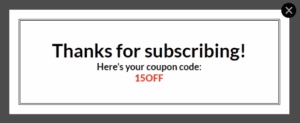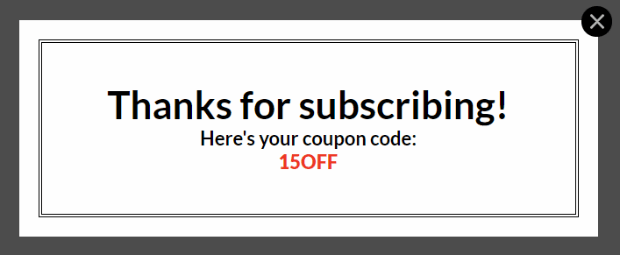 When a visitor fills their emails, then they automatically redirect to a thank you page.

On the thankyou page, there is a coupon code for your offer products.

You can easily manage the thank you page in the same way.
Step 5. Publish Your Coupon Popup
After making popup coupons & thank you page, all you have to do is click on save changes and publish your campaign. After publishing you can see a page like this.


Congratulation, you successfully create popup coupons for your WordPress website, Now you and converts visitors into customers.
Final Conclusion
According to my, Optinmonster is the best popup coupons builder for your WordPress website, so follow these steps and signup for Optinmonster today. This method results in generating more and more leads and boost your sales and conversion.
Thanks for reading this article, I hope you find this article helpful. For another amazing WordPress guide, I picked up some amazing articles for you.
You may also Like –