Do you know the secret of generating qualified leads and ultimately that increase revenue for your business?
Most Digital marketers use this secret to generate sales & revenue for their business. If you have a large email list, it does not means that you can generate a huge amount of money from this.
Because if you do not know the proper technique to qualify leads, then you will lose your all customers.
In this Article, I gonna show you "How to qualify Leads and how to measure them". So being with me throughout the article.
What is Lead Quality?
It is a type of prospective buyer that you attract based on specific parameters that you have set. The higher the quality of leads prospective, the more likely to become customers.
If you generate quality customers, then your revenue will be increase exponentially.
The measurement of lead quality depends on the strategy that you make for qualifying leads and the product you sell.
There are many methods to track your leads to identify you are going in the right direction that you set. So, I listed a few methods to track your leads prospectives.
Lead magnet – You provide quality content or free valuable product to generate qualified leads.

Customers want to more about your products or services and contact your team.

Leads can be drive through different opt-in pages and upsell pages and it means they want to work with you but before this, they confirmed that it is genuine or not.
these are some of the methods that I listed for Lead Quality.
How to measure lead Quality?
1. Track Your Downloading Lead magnet
If you have made a lead magnet in your WordPress Website, then it is a waste without tracking your audience, when they download your lead magnet, you can track your audience.
You need to install Monsterinsights Plugin on your WordPress website to track your customers.
I recommend you to use MonsterInsights for tracking customers throughout the whole process because it is very easy to use and has depth insights.
You can easily find out " How many times your lead magnet downloaded"  and easily track your customer by simply lookout your event report.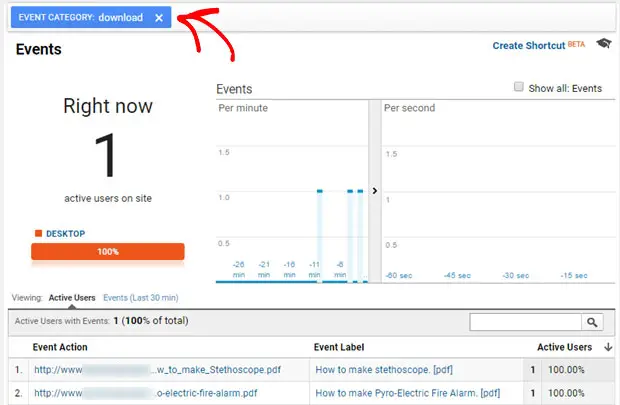 If you want to measure lead quality in Google Analytics, you also want to tag or segment your qualified leads in your email marketing tools.
Identify your quality leads is the essential step that helps for Specific product promotion. If you qualify your leads, you customer are most likely to open your emails.
2. Pre-sale Query Form Submission
If you want to track your pre-sale Query Form submission, you can just install MonsterInsights Forms addons.
3. Essential Pages visits
You can track your visitor whether visitors are browsing through important pages by setting up Google Analytics setting goals. By visiting multiple pages by your visitor, then they can show interest in your visitors.
When your lead is qualified, then you can target your customer onsite a well as offsite to show specifics target marketing.
Remarketing:-  You can target your qualified leads through Facebook & Instagram marketing to convert them into qualified customers.
Conclusion
I show you how you can generate qualified leads and track leads to convert into customers. Monsterinsights Plugins helps you to do this very well. So, I hope you to find this article helpful, thanks for reading this article, see you in the next article.